''Nairi'' MC department of gynecological oncology has been recognized by ESGO as certified center corresponding to European standards.
09 June 2020 | News | Breast tumors | Gynecological tumors | Gynecology and Women's Health | Artem V. Stepanyan
Nairi Medical Center represented by the Head of Service A.V. Stepanyan, has been recognized by European Gynecological Oncology Association as a certified Center that meets the European Standards(ESGO)․

Thanks to the experience of the founder of ''Nairi'' MC gynecological oncology department, surgical oncologist, Associate Professor, Member of ESGO Board of Directors, various oncological and gynecological surgeries, especially cytoreductive surgeries for advanced ovarian cancer are preformed, which has been duly recognized by the European Society of Gynecological Oncology .

ESGO is an organization with a significant impact in the field of gynecological oncology, which has very high standards for the service quality assessment.
We are proud to note that the team of gynecological oncology in ''Nairi'' Medical Center performs surgeries according to the standards set by leading European clinics. (It is evidenced by the certificate awarded by ESGO .)

These are not just words, but the facts proved by documents.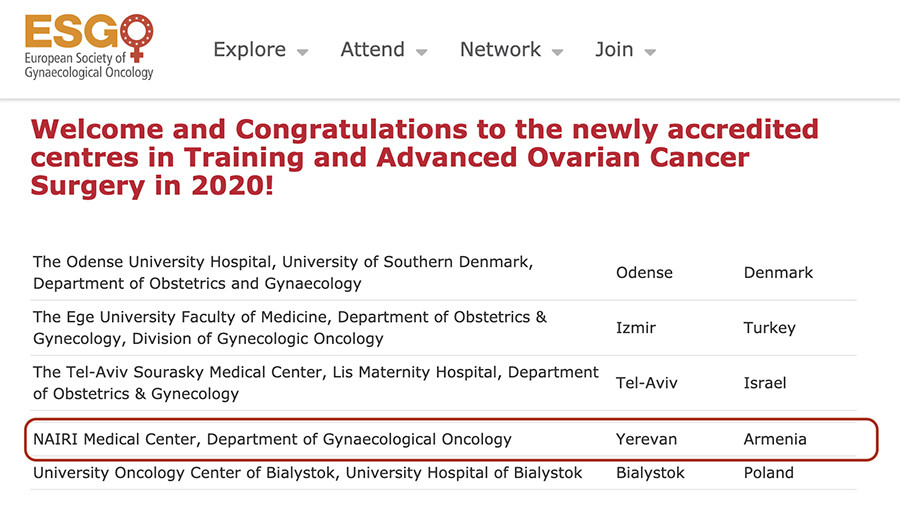 ---
---
Similar articles
View all
Sign up here for our newsletter